This easy-to-make zesty lime shortbread cookie recipe topped with a quick lime icing adds a burst of zesty lime to classic shortbread!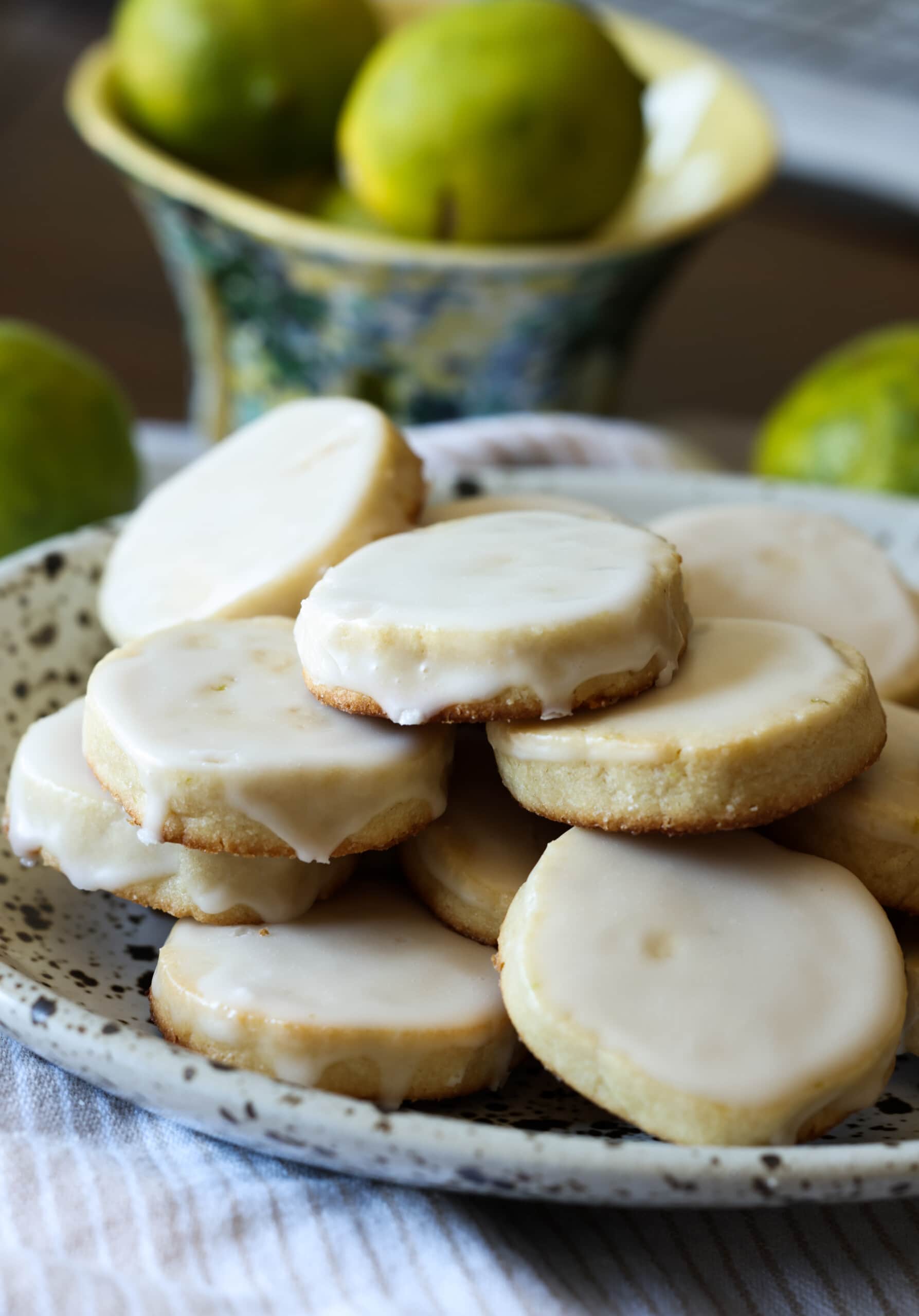 This easy lime shortbread recipe is as delicious in the summer and spring months as it is on your holiday platter. Shortbread is extremely versatile, but I have to say that citrus shortbread is easily my favorite version. Buttery, crisp edges, with a melt in your mouth texture and a citrus kick makes this shortbread recipe my go-to!
Shortbread cookies have the highest ratio of butter to flour. Sugar Cookies have the lowest ratio, and butter cookies are in between with a higher amount of sugar. The variations are slight, but they do make a difference.
What Kind of Limes to Use For Lime Shortbread?
You can absolutely use Key Limes in this recipe if you prefer. I just use the limes I find at the grocery store, which are typically Persian Limes. They are larger and tarter than Key Limes but for this recipe either will be fine!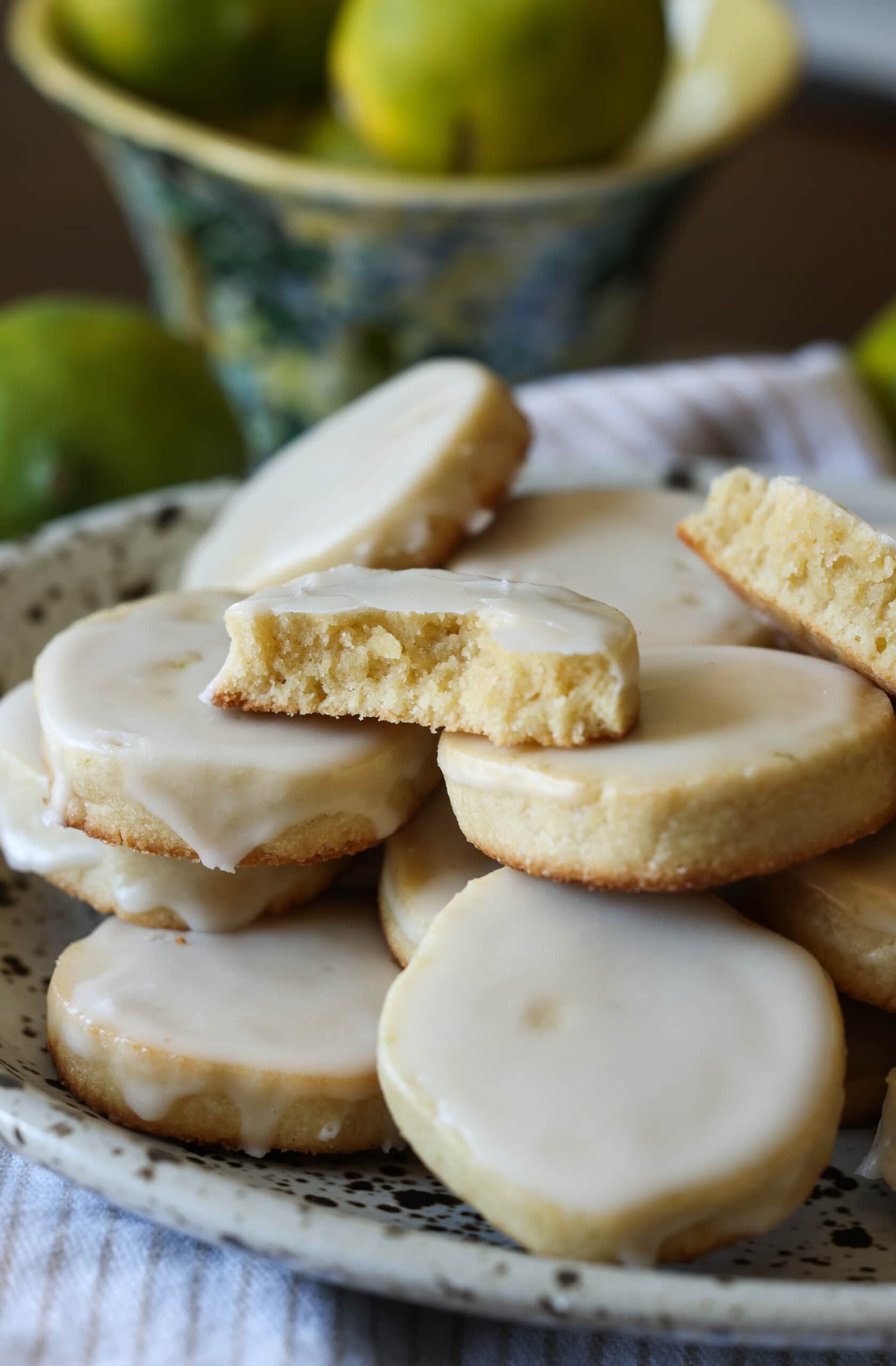 The Ingredients:
Room temperature butter. I like to use salted butter in this recipe, but you can use unsalted without changing the additional salt amount.
Granulated sugar
Limes. You will need both the lime zest and juice of the limes.
Vanilla extract
Kosher salt
Egg yolks. You won't be using the egg whites in this recipe. I have found that using just the yolks produces a richer tasting shortbread cookie.
All purpose flour
Powdered sugar. You will need this for the quick icing on top of the cookies mixed together with the lime juice. You can make the icing as thick or thin as your prefer, but I like a thinner icing that I can dip the cookies into for ease. If you make it a little thicker you can pipe the icing on top.
The Equipment: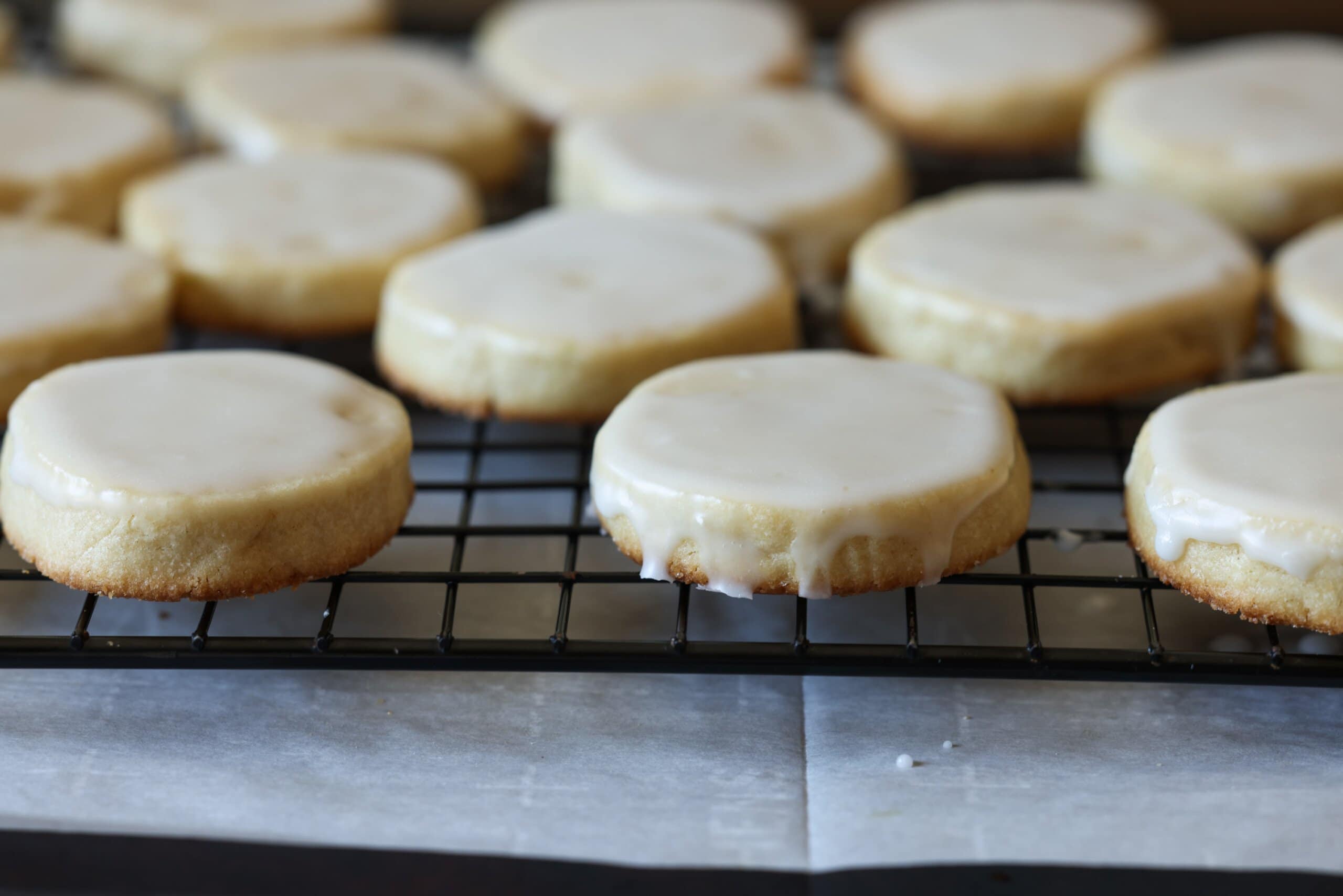 Step By Step Instructions:
Cookies: In the bowl of your stand mixer fitted with the paddle attachment, mix the butter and granulated sugar together for 2 minutes on medium speed. Add in the zest from 2 limes (about 1 tablespoon), and mix for 30 seconds until combined. Reserve the limes for their juice.
Add in the vanilla, salt, and yolks and mix until combined, scraping the sides of the bowl as necessary.
Turn the mixer to low and add in the flour, mixing until just combined.
Place 2 sheets of plastic wrap on your clean counter. Divide the dough into 2 equal portions and place each portion onto the plastic wrap. Form each dough into 2 equal logs, 2- inches in diameter. Wrap the dough in the plastic wrap tightly, smoothing the shape out after it's wrapped. Place the wrapped dough into the refrigerator for 2 hours, or until completely chilled.
Preheat your oven to 350°F. Line a baking sheet with parchment paper and set aside.
Remove the dough from the refrigerator and slice into 1/4- inch slices with a sharp knife. Place the cookies on the prepared baking sheet and bake for 14 – 16  minutes, until the cookies are golden at the edges.
Allow the cookies to cool on a wire rack.
Icing: In a medium bowl whisk together the powdered sugar and 2- tablespoons of the fresh lime juice from the reserved limes until smooth.
Dip each cookie into the icing, and place on the wire rack to let the icing set.
Tips for Success:
The great thing about these cookies are they are easy to make and are almost foolproof. A few things to note:
Make sure you are using large sized eggs. The size of your egg in baking matters as eggs add moisture. Too large an egg can add too much moisture making your dough sticky.
Don't worry so much about forming the dough into the perfect sized log before wrapping it in plastic wrap. The dough is a *little* sticky and is easier to smooth and form once it's wrapped in the plastic wrap before you refrigerate.
If you want perfectly round circles, turn the dough log in the refrigerator at half turns throughout the chilling process, rounding it out. As the dough sits in the refrigerator one side will flatten. The only way to avoid this is to smooth it out and turn the dough. I don't do this, honestly, because it doesn't bother me much. If the dough is very flat on one side it's pretty easy to manipulate.
Don't underbake. The delicious characteristic of shortbread, in my opinion, is the crisp, buttery edge. If you underbake these cookies they will be soft and a little doughy. This isn't necessarily bad, but you want to have pretty golden edges for that sweet, buttery crunch.
Variations:
Use any type of citrus you prefer. This recipe would work great with lemons or orange!
Lime is always great with coconut, so top the icing off with a little toasted coconut or roll the dough into coconut before baking!
This shortbread recipe works without citrus perfectly too! It's just a great slice and bake shortbread recipe!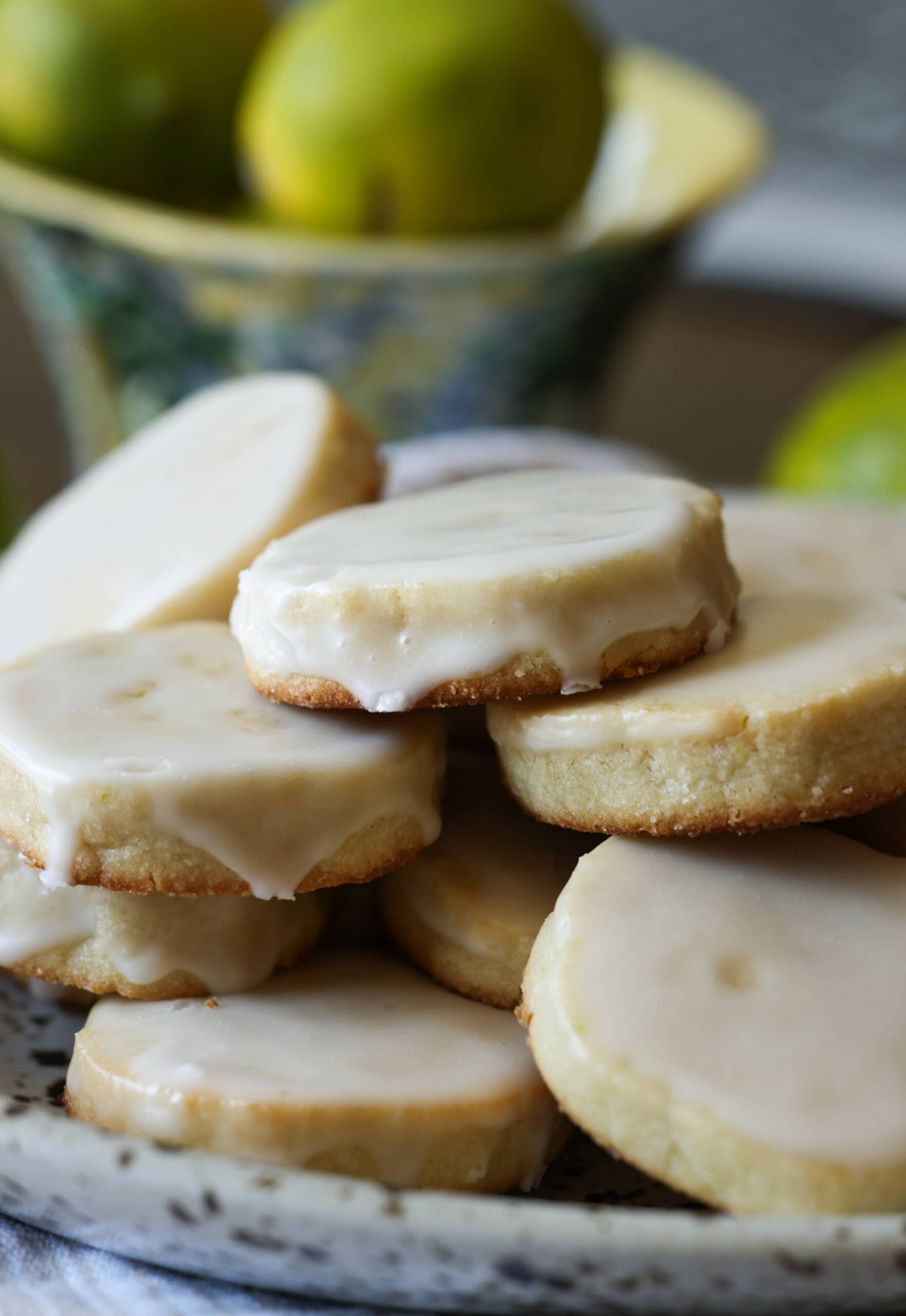 Serving and Storing
These cookies are great stored in an airtight container at room temperature for up to 5 days for the best freshness. They can also be frozen airtight for up to 30 days. Thaw them out at room temperature and enjoy. Note that the icing may get a little sticky as it thaws out, but it will firm up again when they are completely thawed and back up to room temp.