These flavor-packed, pull-apart Philly Cheesesteak Sliders are the best finger food for parties! Juicy beef slices mingle with tender sautéed peppers and onions, topped with two types of melty cheese on a soft and fluffy bun. You can't beat this easy dinner idea or appetizer!
Make sure to try my Cheeseburger Sliders too! They are a HUGE reader favorite!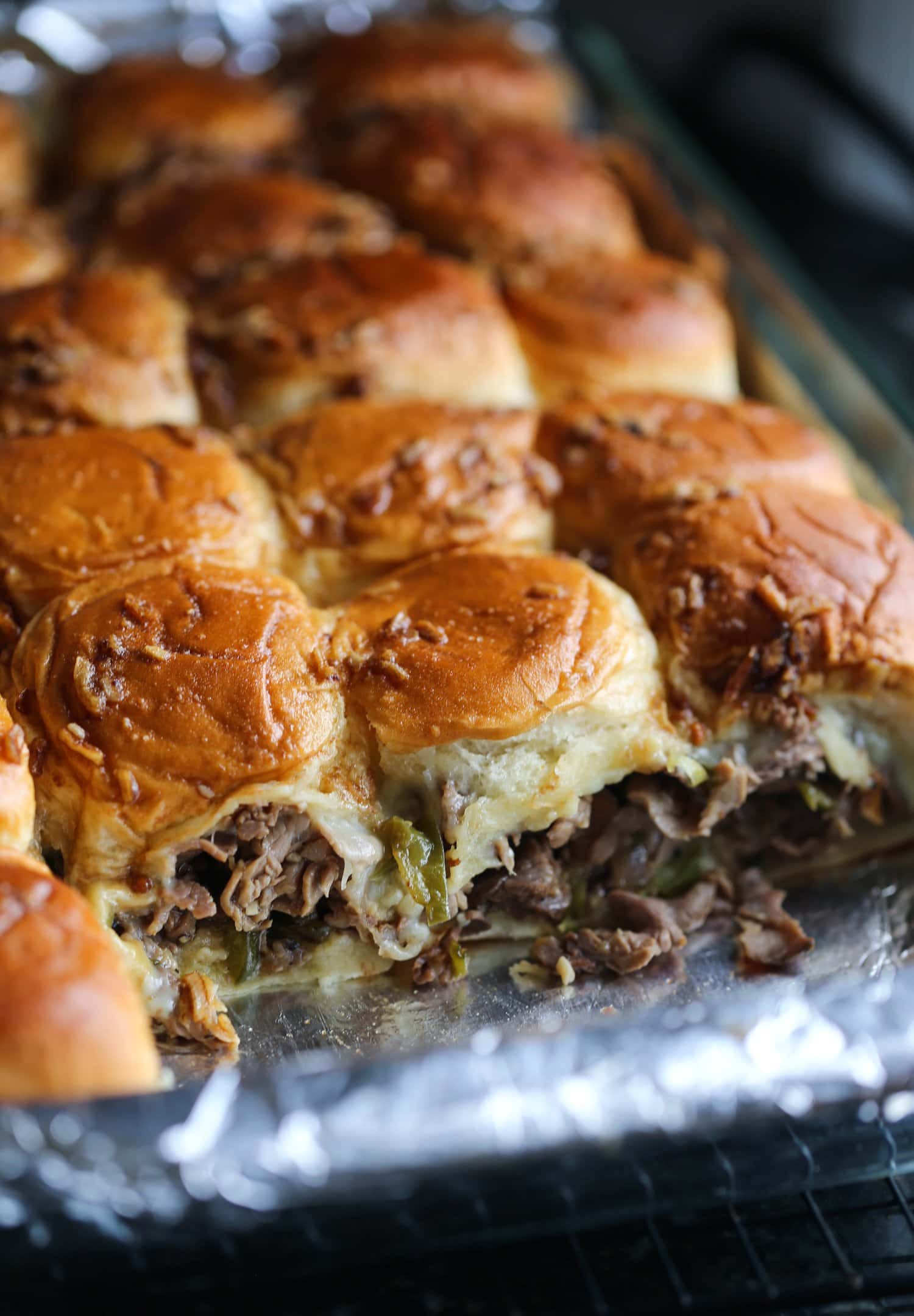 The Best Philly Cheesesteak Recipe
Today's recipe is one of my favorite recipes to make for parties, or even as an easy dinner idea! From game day to potlucks, even family get-togethers. I struggle to find an occasion that doesn't warrant these easy, cheesy Philly Cheesesteak sliders! I keep it easy using deli roast beef and add it to some tender-crisp peppers, sweet caramelized onions, and two types of cheese come together in this flavor packed sliders recipe.
To top it all off, this Philly cheesesteak recipe is made all together, pull-apart-style on slider rolls in a baking dish. That's two dozen awesome sandwiches in the time it would take to make one! Also are they "Philly cheesesteaks" or just "cheesesteaks"? It's a running debate in our house!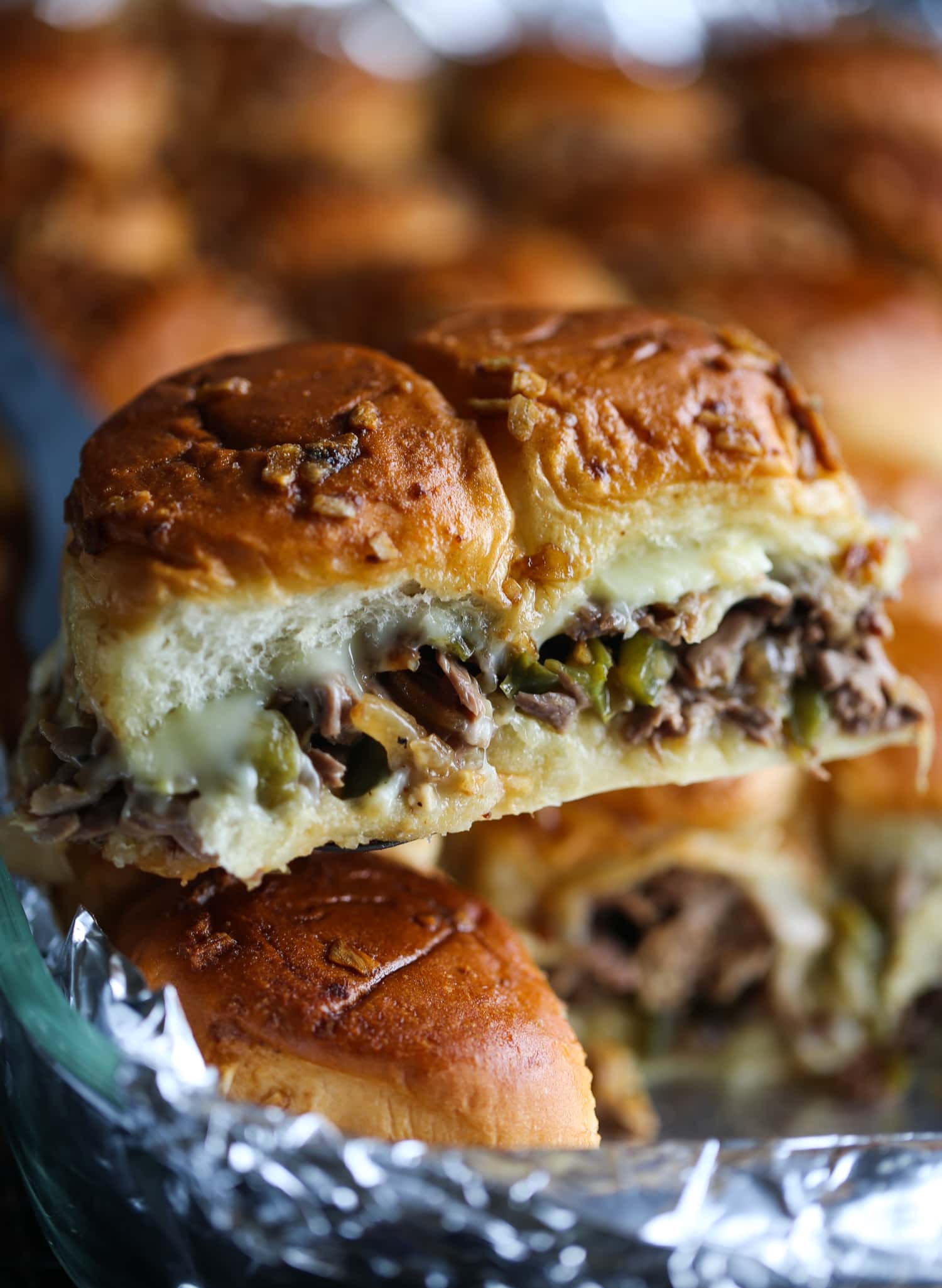 What is a Philly Cheesesteak?
If you're from the States (and even if you've never visited Philadelphia), chances are you've at least heard of a Philly cheesesteak. But in case you missed it, a Philly cheesesteak is a famous sandwich made with tender-cooked ribeye topped with American cheese, and served on a roll. Variations include caramelized onions and peppers, and provolone cheese. This iconic sandwich is a staple of Philly eateries. If you're not one for missing out, these easy homemade cheesesteak sliders are just what you need at your next get-together!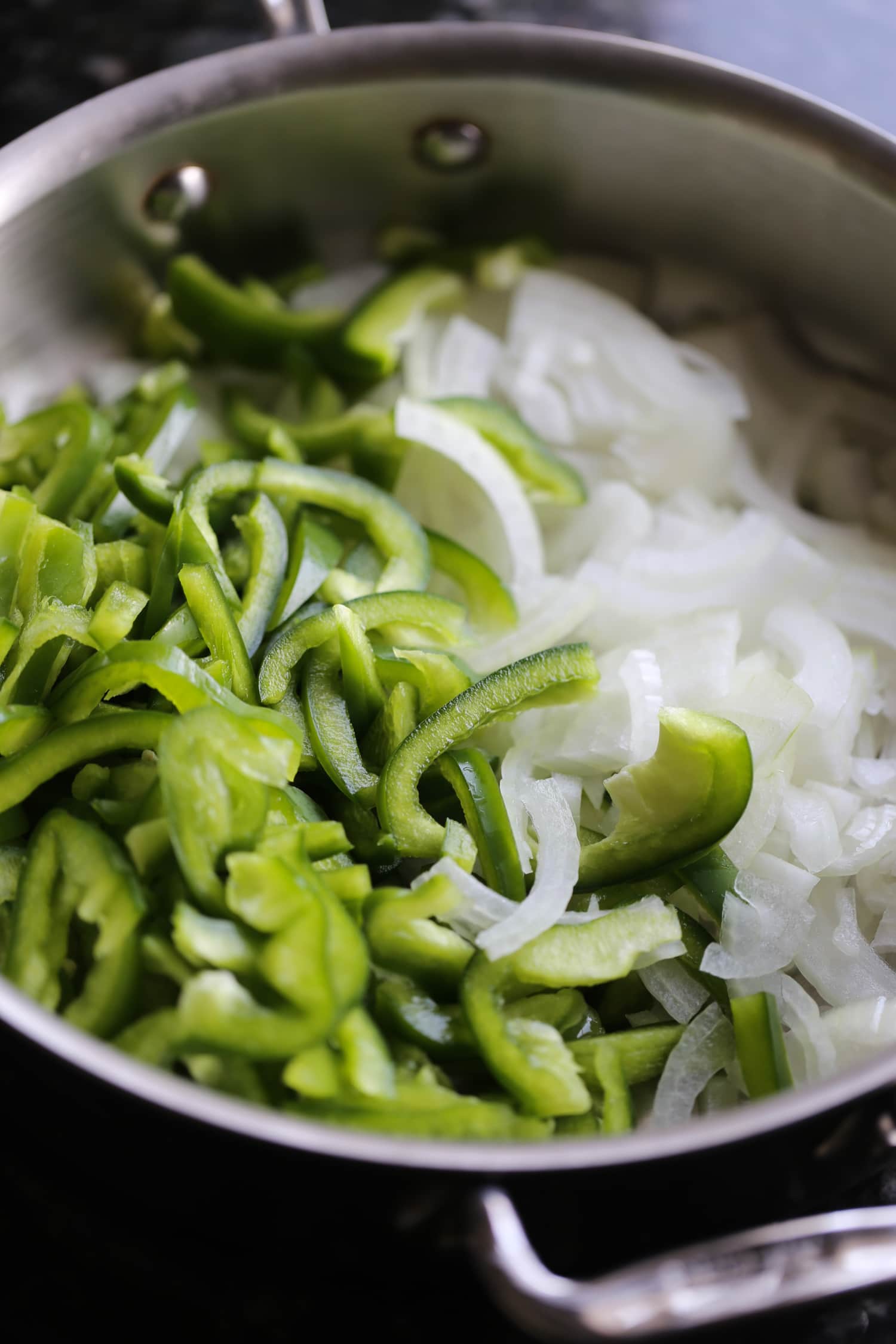 Ingredients You'll Need
Slider Rolls: Regular slider buns or Hawaiian rolls.
Sweet Onion: I use Vidalia onion. Another sweet and mild onion, like white onion, will also work.
Green Bell Peppers: I love the slight crispiness of sauteed green peppers in my sliders. If you're not a pepper fan, feel free to leave it out.
Garlic: Fresh cloves, minced.
Onion Soup Mix: A shortcut to loads of flavor! All you need is a couple of packages of your favorite dry soup mix.
Roast Beef: I'm all about food hacks when it comes to party food, so I make these cheesesteaks with deli roast beef, sliced into strips. See more suggestions for what beef to use below!
Cheese: I use a combination of white American cheese and deli provolone slices. The melt factor is just next level!
Worcestershire Sauce: For a hint of umami flavor. It really makes a difference!
Olive Oil
Butter
Salt & Pepper
What Kind of Steak Should I Use?
If you're going the traditional route, a Philly cheesesteak is made with shaved or thinly sliced ribeye steak, or a similar option like NY strip or skirt steak. Some grocery stores will carry steak that's pre-cut into thin slices, which is helpful. I take a bit of a shortcut and use roast beef from the deli section! The flavor is still amazing, and it's easy to come by.
How to Make Philly Cheesesteak Sliders
While your oven is preheating to 350°F, get out a good size baking pan and line it with foil. Give it a spritz with some cooking spray. Then go ahead and make some sliders:
Cut the Bread: Leaving the slider rolls in one large sheet, use a bread knife to cut the rolls in half. Set aside the tops for now and place the bottom layer into the pan.
Cook the Veggies: Saute the onions and green peppers in a skillet with some oil, until softened.
Cook the Steak: Add in the seasonings and soup mix and give everything a stir. Next, stir in the roast beef and continue to cook until the beef is warmed through.
Assemble: Spoon the steak over the slider rolls, then layer on the cheese slices before pressing the slider tops into the pan. Melt some butter and soup mix together in the microwave and then drizzle or brush the mixture over top of the rolls.
Bake: Bake the sliders, covered tightly in foil, until the cheese is nice and melted. Leave the pan covered for a few more minutes once it's removed from the oven before serving.
Can I Make Them In Advance?
If you'd like to get a headstart on these sliders for your game day meal planning, the best way to do it is to prepare the steak and veggie mixture in advance. I wouldn't recommend assembling the sliders the night before, as they'll wind up soggy by the time you go to bake them.
Once your steak is ready, simply store it airtight in the fridge until you're ready to assemble and bake your Philly cheesesteak. Keep in mind you may need to add a few extra minutes to the baking time to ensure the meat is heated through!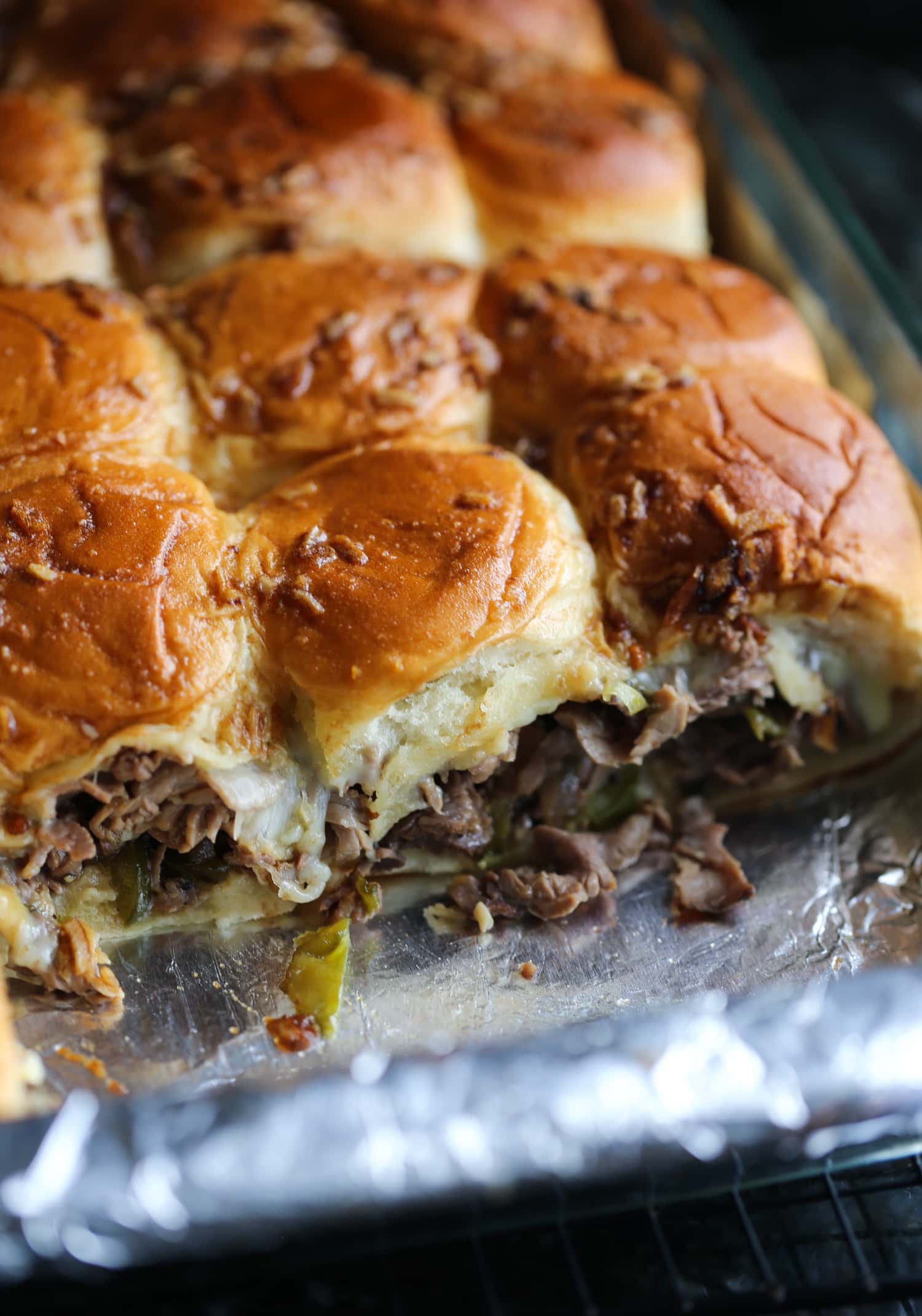 Tips for Success
Use Soft Buns: Choose a nice quality, soft Hawaiian roll or bakery bun for your sliders. Avoid chewy rolls like ciabatta or sourdough. It's fluffy buns or bust when it comes to Philly cheesesteak! If you prefer a crispier bun, lightly toast them before assembling.
Don't Skip the Butter: That delectable, seasoned butter wash overtop of the buns before baking is what takes the flavors of these sliders to the next level! Don't skip it – if you don't have enough onion soup mix, you can make a quick garlic butter with extra garlic cloves instead.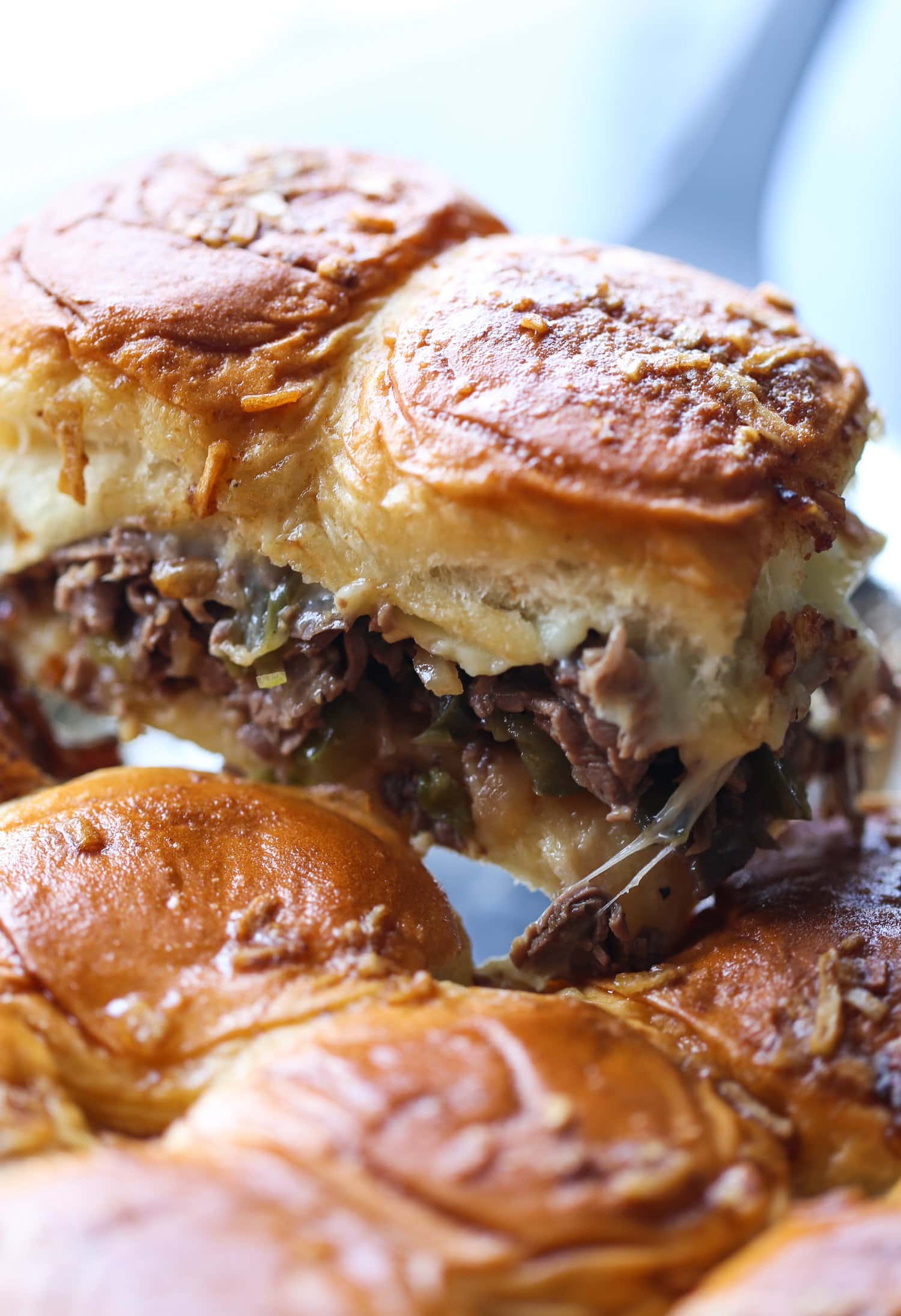 Serving Suggestions
These Philly cheesesteak sliders are perfect to enjoy with other pub-style sides like French fries and onion rings. These mini sandwiches make a great addition to a game day appetizer spread, served alongside other party bites like Hot Corn Dip, Mini Corn Dogs and Homemade Pepperoni Pizza Rolls.
Cheesesteak sliders are also great to serve at potlucks next to Potato Salad, Corn Casserole, or Coleslaw.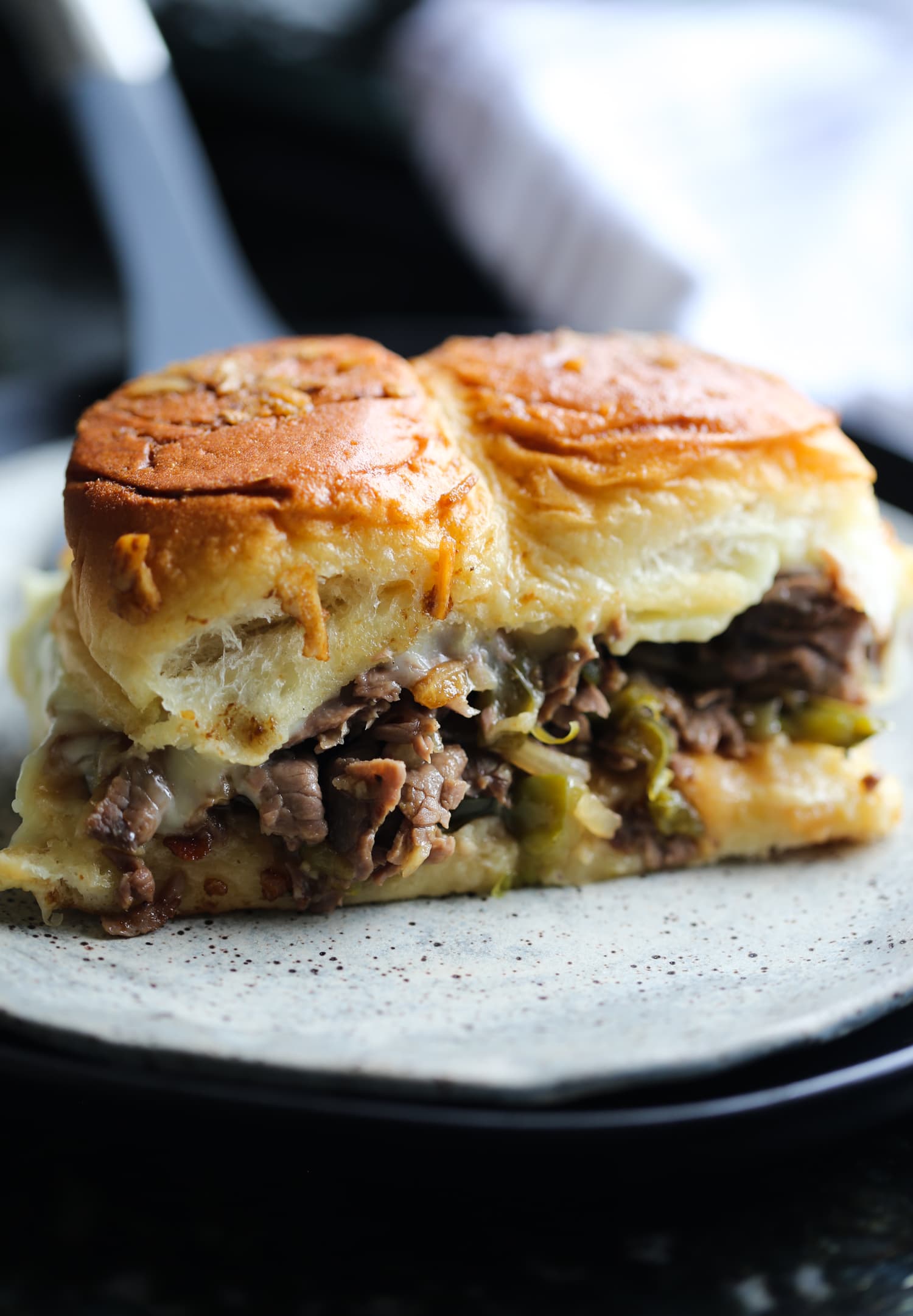 Storage and Reheating
If you have extras, just wrap the pan tightly in cling wrap or foil and store the sliders in the fridge for a day or two. These make for easy next-day lunches!
Reheat your Philly cheesesteaks covered in foil, in a 350ºF oven for 10 minutes or so, until warmed through.
More Mouthwatering Sliders to Try
clock iconcutlery iconflag iconfolder iconinstagram iconpinterest iconfacebook iconprint iconsquares iconheart iconheart solid icon
---
Description
These flavor-packed Philly Cheesesteak Sliders are the best finger food for parties! Juicy shaved beef strips mingle with tender sautéed peppers and onions, topped with cheese on a soft and fluffy bun. You can't beat this easy appetizer on Game Day!
---
24

slider rolls

2 tablespoons

olive oil

1/2 cup

+

2 tablespoons

butter, divided

1

large Vidalia onion, thinly sliced

2

green bell peppers, thinly sliced

3

cloves garlic, minced

2

(1- ounce) packages dry onion soup mix

1 teaspoon

kosher salt

1 teaspoon

ground black pepper

1 1/2

pounds deli roasts beef, sliced into strips

5

slices white American cheese, cut in half

5

slices deli provolone, cut into 1 1/2- inch slices

1 teaspoon

Worcestershire sauce
---
Preheat the oven to 350°F. Line an 11×15- inch pan with foil. Coat with nonstick spray. Without separating the individual rolls, use a serrated knife to cut the slider rolls in half placing the bottoms of the rolls into the prepared pan. Set the tops aside.

In a large skillet, heat the olive oil and 2 tablespoons butter over medium heat. Add in the onions and green peppers and cook until softened and onions and translucent, 8 – 10 minutes. Add in the garlic, onion soup mix, salt, and pepper and stir to incorporate. Add in the sliced roast beef and stir, breaking apart any clumps of meat. Cook for 2 minutes, until the steak is warmed. Remove the pan from the heat.

Evenly distribute the steak mixture on top of the slider rolls. Place the cheese slices on top of the meat, alternating the American and Provolone slices, so each slider has both types of cheese on top. Place the tops of the slider rolls on the cheese and press down slightly.

Place the 1/2 cup butter, and remaining packet of onion soup mix in a small microwave-safe bowl. Heat for 30 – 45 seconds until melted. Stir to combine and drizzle the mixture evenly on top of the slider buns. 

Cover the pan tightly with foil. Place the pan on a large cookie sheet and bake for 15-20 minutes, until the cheese is melted. Remove the pan from the oven and keep covered for 5-10 minutes before uncovering and serving.
---
Keywords: philly cheesesteak recipes, beef sliders, game day food, party food ideas
Want To Save This Recipe?
Find more recipes like this:
[ad_2]